"A friendly, creative environment for learning together"
Welcome to Stannington Infant School
Thank you for visiting our website.  We hope you find it helpful and informative and that it gives you an insight into our school of which we are so proud.
We aim to provide a 'friendly, creative environment for learning together'.
We strive at all times to provide the highest standards in teaching and learning to develop the full potential of every child.  We believe that learning is exciting and that the time your child spends here will lay a firm foundation for his/her future.
Our last Ofsted Inspection (October 2009) identified that Stannington Infant School was outstanding. We have the Basic Skills Quality Mark, the Artsmark Gold, Eco School Green Flag Award, the Leading Parent Partnership Award, Healthy Schools Award, Sing Up Gold Award and have the Active Mark.
We are a thriving school with 180 pupils on roll. We currently have 3 full-time teachers, 6 part-time teachers and 20 support staff who work well together. The children are taught in single age classes. The school is committed to equal opportunities.
There is a strong partnership with parents and governors who are active in the life of the school. We welcome parents as partners in the education of their children and look forward to working with you. We're always interested to hear your views and comments about any aspect of school life.
Stannington Infant School is a co-educational primary school within the Sheffield Education Authority. We admit children from 4+ to 7 years. The school has no affiliation with any particular religious denomination.
Our School Building
The main school building dates back to 1910. We have 6 classrooms, two of which are housed in a mobile classroom. Within the main building there is a well equipped hall, staffroom and offices. We have a separate kitchen and dining room. Two sets of toilets can be found in school, including a disabled toilet. The mobile classroom has their own cloakroom areas and toilets. The school has extensive grounds and we benefit from a pleasant, rich environment, including secure outdoor play spaces for Reception children. There is a wonderful school garden and also an adventure trim trail area. Access to school is gained through the gates on Stannington Road and Uppergate road. All Visitors to the school must report to the main office.
If you would like to visit our school please do not hesitate to contact us to make an appointment. I look forward to meeting you.
Mrs S Binns
Head Teacher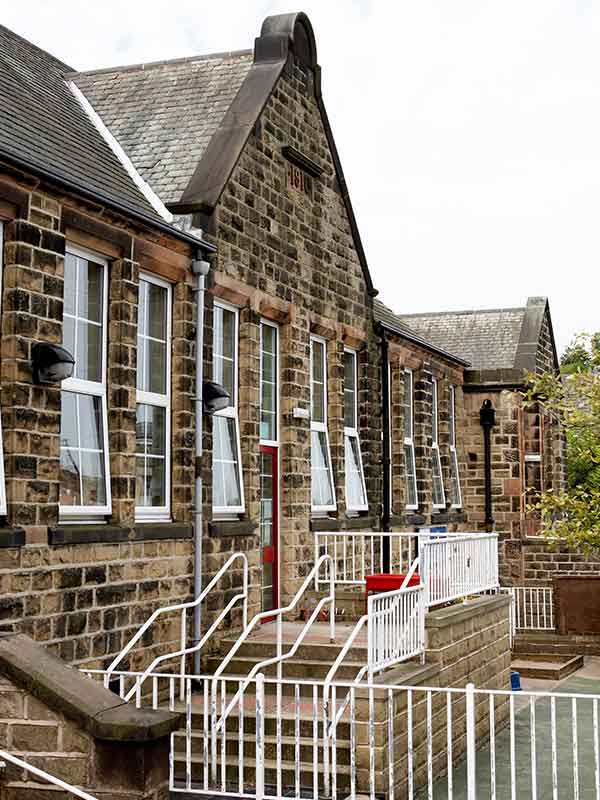 School Times
9.00am – 12.00pm including a mid-morning break (15 minutes)
1.10pm – 3.20pm including a break (15 minutes)
Doors open at 8.50am and teachers will be in their classroom from that time.
Weekly teaching time, excluding registration, assemblies, breaks and lunchtimes, amounts to 22 hours 10 minutes.