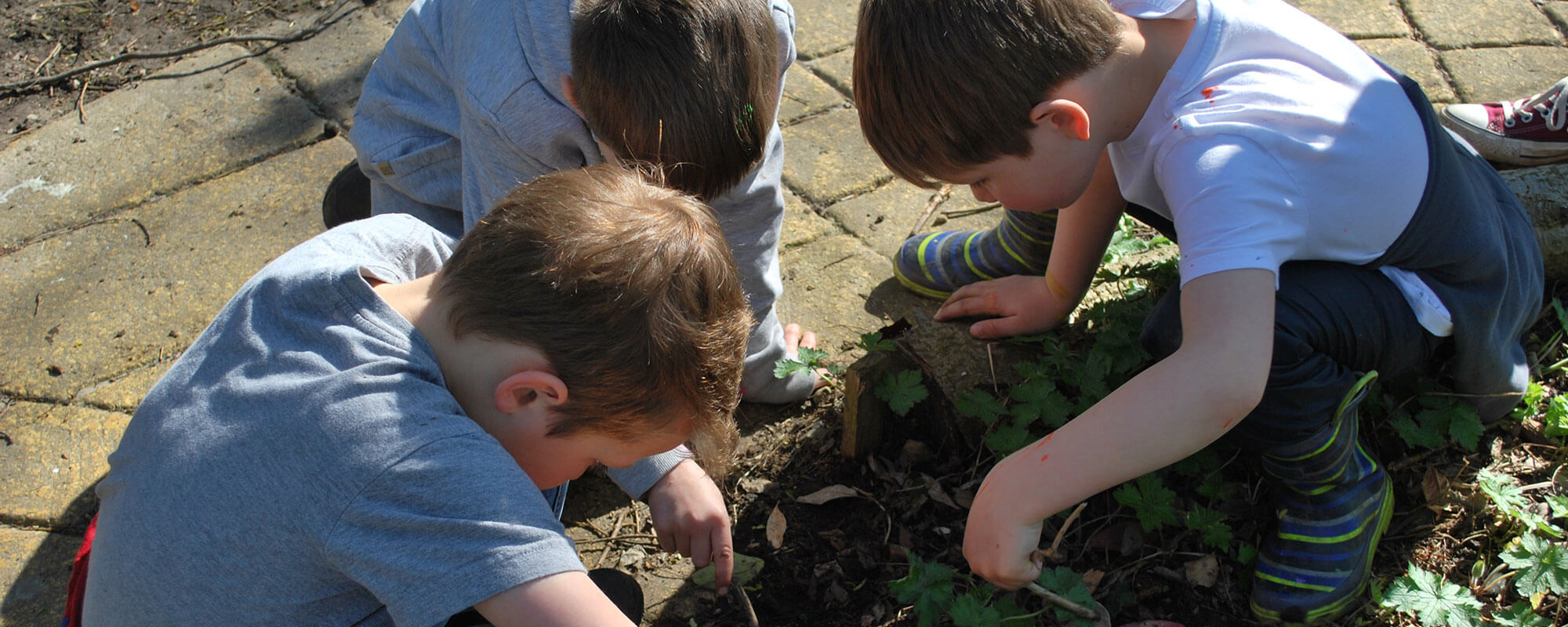 "A friendly, creative environment for learning together"
Forest Schools originated in Sweden in the 1950's and spread through Scandinavia and Europe. The Forest schools concept was established in Denmark for pre school children (up to 7 years) in the 1980's. In the 1990's some of these forest schools settings were visited by interested early years professionals from Britain and Forest schools was born in Britain.
A study in Sweden found that children going to Forest School in a countryside environment were much happier than children in urban kindergartens. Children were more balanced and socially capable. They were healthier because by being outside they were not exposed to as many viruses and bacteria. They also had better immune systems.
When the Forest school children started school they had stronger social skills, were able to work in groups, had high self esteem and confidence in their own capabilities. Forest schools provides opportunities outside for children and adults to develop life skills such as independence, self awareness and social communication skills which help individuals grow in self-esteem and confidence. They also gain confidence in their own capability. This way of learning is particularly suited to kinaesthetic learners. By being outside in a woodland environment they have space to get up and move about and have a "hands on" approach to learning whilst physically interacting with resources.
Forest School is becoming more widespread across Britain as teachers and practitioners see for themselves the impact it is having on children who have been involved in Forest School settings.
Forest School Leaders includes teachers, early years specialists, youth workers, woodland owners and craftspeople. Forest Schools use a different range of woodland settings to meet the needs of client groups and evidence has been compiled demonstrating positive outcomes on children relating to an increase in self-esteem, an ability to work with others, learning about the outdoors, developing a sense of ownership of the environment, providing motivation to learn, and increasing knowledge and skills.
Forest School at Stannington Infants
Our Forest School started in September 2010. We have several Teaching Assistants qualified as Forest School practitioners;  Michelle Platts level 3 Practitioner and Mrs Ashford and Mrs Woodhead Level 2 Practitioners. Each class has a block of 5/6 sessions:
Foundation Stage – Autumn term an Introduction to Forest School       Y1 – Spring term          Year 2 – Summer term       Foundation Stage – Summer term 
After three years in school all our children will have visited the woodlands in each season.
Our Aims
To establish positive relationships with adults and their peers, building trust and understanding.
To prepare the children for their experience in the forest and to negotiate rules and boundaries.
To have a basic understanding of what happens at Forest School.
The Forest Site
Most sessions are held in the school garden. We have an outdoor classroom, funded by parents through our PFA. The garden has areas of mature trees, including fruit trees; minibeast areas, den building areas and wild flower and bog garden as well as an apiary for our beekeeping. 
Dates and Times
Sessions started in September 2010 to present and run weekly in term time only. Each session runs on a Friday 9.00 -3.20.
Scroll down to see what we have been learning……